Product Description
Optoma UHZ65 4K UHD Home Theater Projector :
Larger-than-life 4K laser home viewing experience with stunning color and amazing clarity
Native 4K UHD 3840×2160 2160p, bright 3000 lumens, and a laser phosphor light source for for vibrant, vivid cinematic color and no lamps to change
HDR-compatible – HDR10 produces the brightest whites, deepest blacks, and striking, life-like colors courtesy of wide color gamut support featuring REC.2020 and DCI-P3 coverage
Dynamic Black delivers 2,000,000:1 contrast ratio for exceptional black levels
HDMI 2.0 and HDCP 2.2 deliver a full 18Gbps for the best 4K UHD video bandwidth, image quality and device compatibility
Vertical Lens Shift and 1.6x zoom for an intuitive and flexible installation
PureMotion technology eliminates noise, motion blur, and judder in fast motion video, producing clear and consistently smooth images
Stereo speakers and optical output to AV receiver delivers crisp and sharp audio
3 Year Optoma Express Warranty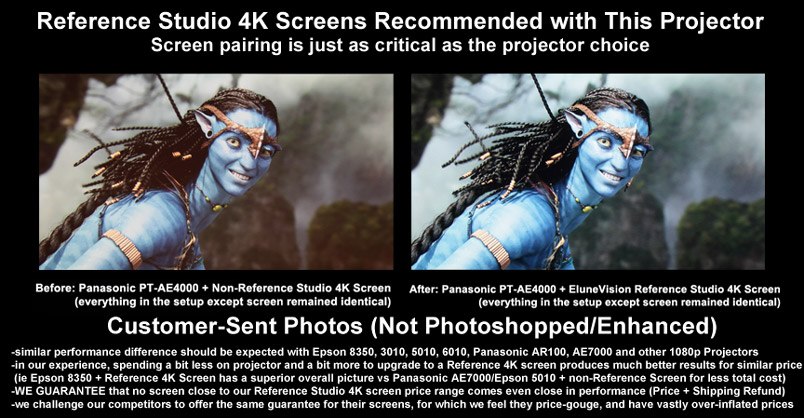 The UHZ65 is a state-of-the-art 4K Ultra High Definition (UHD) projector for home cinema viewing capable of delivering incredibly sharp images with a high level of detail and breathtaking color. With 4 times the pixels of 1080p, an ultra high resolution of 3840×2160, 3000 lumens, and 2,000,000:1 contrast ratio, the UHZ65 has been engineered to deliver the ultimate 4K UHD home viewing experience. Its powerful laser phosphor light engine, High Dynamic Range in the form of HDR10, vertical lens shift and massive 1.6x Zoom, take image quality and use of the UHZ65 to world class, cinema-quality. The UHZ65 is powered by a revolutionary Texas Instruments 4K DLP UHD chipset with a high performance DMD utilizing XPR video processing technology with fast switching to display 8.3 million "distinct" pixels as mandated by the Consumer Technology Association's 4K UHD 2160p specification.
The UHZ65 can project 4K UHD images of 140+ inches, allowing viewers to sit as far a way as 11 feet from the screen and still enjoy the full 4K UHD pixel experience. The average 55-75 inch 4K UHD TV simply cannot match this, as viewers typically sit further away from their TV than the optimum viewing area of 4-6 feet. High Dynamic Range (HDR) is the true star of the 4K UHD show. HDR leverages wide color gamut with REC.2020 and DCI-P3 coverage to deliver luminous whites, deep black levels, and striking, like-life, real world color that was previously only possible at the movies.
The UHZ65's PureMotion technology dramatically enhances games, movies, and sports by eliminating noise, motion blur, and erratic movement in fast motion video, producing images that are clear, consistent, and smooth. In terms of at-home installation, a generous 15% vertical lens shift and a massive 1.6x optical zoom provide a great deal of flexibility, while dual stereo speakers generate audio that is loud and crisp. The UHZ65's light source provides a remarkable 20,000 hours, eliminating the need to replace the light source throughout the life of the projector.
Whether you're looking to purchase this or any other projector, shop for a projector screen (or a combination in a projector package), Eastporters has everything you need at the best prices. Additionally, we carry a wide range of home theater seating to perfectly complement your home theater setup.
4K UHD Resolution
With over eight million pixels, Ultra HD 4K resolution brings four times more detail than Full HD, to deliver sharper, life-like images and richer colors. Allowing you to sit closer to the screen and enjoy a more immersive experience.
HDR compatible
Capable of receiving and displaying HDR meta data, Optoma HDR compatible projectors allow you to see far more detail and texture. Objects look more solid and life like and the extra detail creates a greater sense of depth. It's like looking through a window.
SDR to HDR conversion
Give your SDR content a second lease of life with SDR to HDR conversion. This unique feature lets you enjoy near-HDR content from any standard source – providing enhanced contrast, detail and colors to all SDR content.
Amazing colors
Watch your movies, TV shows and play games with stunning colors in any environment. Optoma projectors provides you with reliable performance suitable for any content and environment. Our home projectors are capable of reproducing the Rec.709 color gamut, the international HDTV standard to guarantee accurate reproduction of cinematic color exactly as the director intended. Or more saturated colors for a punchy looking image, great for gaming and animated movies.
Vertical lens shift
Simplify installation with vertical lens shift, which provides a wider range of projector placement possibilities. This makes it easier to position the projector in your room and enables a wider range of screen size options.
PureMotion
Using sophisticated frame-interpolation technology, advanced motion control processing eliminates motion blurring or image judder, even in high-speed action sequences.
UltraDetail
This technology ensures all the information contained in an image is faithfully reproduced on the screen giving a stunning crystal clear, pin-sharp picture.
Color Management System (CMS)
Display accurate life-like colors to best match your viewing environment. This unique feature provides you with the flexibility to fine-tune the color settings to the Rec. 709 standard for optimal precision.
USB power
Use the USB-Power to power an HDMI dongle, such as Google Chromecast.
MHL
Turn your projector into a smart display by connecting a smartphone or tablet with a single cable using MHL to play games, stream videos and share photos on the big screen.
24p
Most movies are shot at 24 frames per second (fps). To preserve the purity of the original image, Optoma projectors can accept high definition sources at 24 fps to display movies exactly as the director intended.
ISF modes
This feature allows you to save your calibrated day and night mode settings for the highest possible viewing experience.