EluneVision Professional Review
Review Source: Magazine-Audio
English: Link French: Link
This article winds up a busy year with a lot of Home Theater news, making it clear to me that a review on the subject would be welcomed.
Here's hoping you make the transition from 2010 to 2011 with enthusiasm, in peace, focused on your goals, respecting your neighbour. Success is only worthwhile if accepted in modesty, and as for your health, it's something that we can take for granted, but do the best you can to maintain it, and above all, strengthen your circle of family and friends.
---
What born moviegoer hasn't dreamed of owning an HD home theatre?
People who've tried it know that it can now be done in almost any environment.
Today's article is all an HD image in its total glory, so we will be talking about the projection screen.
If you think that the projection screen only counts for a small part of the final result and that money is better spent elsewhere, you risk either a big disappointment or, at least, finding out in the end how much the screen is an essential component of your home theatre system.
The screen we'll review:
EluneVison 100″ Reference Studio Fixed Frame screen with 5″ velour border: US $999.00
Exploring EluneVision
Projection screens have been treated like something of a fifth wheel on a car, an afterthought for most of us, but after experiences with them I have to say that the screen makes a very important contribution to the final result.
Just like room acoustics, which is to high fidelity music what the screen and proper calibration is to an image, the one goes hand in hand with the other, so closely that it would be unreasonable to keep this player out of the game.
The home cinema screen is the first and last link in the chain, the first one we see when we enter the room and the one that lights up with colored images when the room lighting fades.
In a word, the screen is the support for the picture, it's what you are looking at throughout the film, which is hardly negligible, you have to agree.
My first impression, which was confirmed after some research on the Internet and in stores, was that consumers were largely unaware of the importance of the screen. "A good coat of paint on the wall is all you need",  or "a four-by-eight sheet of white melamine will do the job", or "if you need a screen just hang up a white sheet and there's your movie theatre."
Not to mention "I've already spent it all, there's nothing or almost nothing left for a screen", and "$200 for a screen is more than enough."
The paint in question, of course, was made by Goo Systems, whose products are good quality and perform incredibly well for their price, about $250 to $300 for a projection surface three meters wide but you need a dedicated space, I'd be very surprised if your partner or spouse agreed without trouble to repaint the living room wall white and have to take down the old family pictures and move the goldfish aquarium on Aunt Gertrude's buffet…if you see what I mean.
It's already tough to place a pair of loudspeakers correctly, so a 3-meter screen I leave to your imagination.
Now let's come down to earth for a moment and evaluate the needs of a typical movie lover at home: an HD source, a multichannel amplifier with HDMI inputs and outputs, 4 or 5 speakers, a subwoofer, an HD projector and a screen.
There are all kinds of screens, in all sizes, types, base colours and textures.
The very best is the fixed screen, offering your choice of a 16/9 or 2:35 cinemascope picture, and acoustically transparent, just like at the movies. These screens have a convex form and are better placed in a dedicated room than in milady's salon.
Another possibility is the fixed 16:9 screen with a velour frame to improve contrast, like the EluneVision Reference Studio Fixed Frame.
Then there are the movable screens, including the pull-down types, both manual and electric.
These may or may not have lateral tensioning wires (which keep the screen tightly stretched).
Screen colors vary. They may be white, grey, shades of either and have varying gain factors, screen gain being a measure of reflectivity and influencing contrast and brightness. Plain finish, pearlescent or matte.
As many choices as there are human character types, you might say 

However the reason we're not out of the woods yet, if I may use the expression, is that we haven't yet chosen the right model for our setup. What size do we need, what gain and what brand?
To find out, we played the side-by-side comparison game.
Who is EluneVision?
EluneVision was started by two passionate movie lovers, Dave Hao and Milosh Jovic.
To make a long story short, the first model was created in Dave's garage in 2005.
After a timid startup in 2006, EluneVision greeted 2010 with a full range of screens and a penchant for the high-end user at affordable prices, which we had never seen before on the market. At that time I only knew of entry-level screens, not really very interesting, and top-of-the-line models which offered performance but at stratospheric prices.
EluneVision managed to convince us that a product can be high-quality and up-to-date technically without being exclusively for an elite.
Our test screens
The sizes available for the reference Fixed Frame:
http://www.elunevision.com/reffixed-dimensions.html
Prices of the 16:9 versions (diagonal measurement):
92″ – $899.99
100″ – $999.99 our test model.
108″ – $1099.99
115″ – $1199.99
All the fixed screens in the superb Reference series carry a 5-year manufacturer's warranty.
The EluneVision line does include some very fine 2:35:1 models but by the time of writing I had not yet managed to get my hands on one.
It's not easy to compare two screens, let alone test the performance of one compared with the other's.
However we did manage it, and I thank those brave souls who agreed to play the testing game in their homes.
---
First comparison, first remarks
On our side-by-side screens, the images are not the same in color rendition and saturation.
White on the left (EluneVision) and yellowish on the right (Draper), without changing any settings, the results speak for themselves.
We adopted one basic rule: we never changed user settings.
We did no calibration, we simply compared side by side so we could see what happened when we did no more than change screens.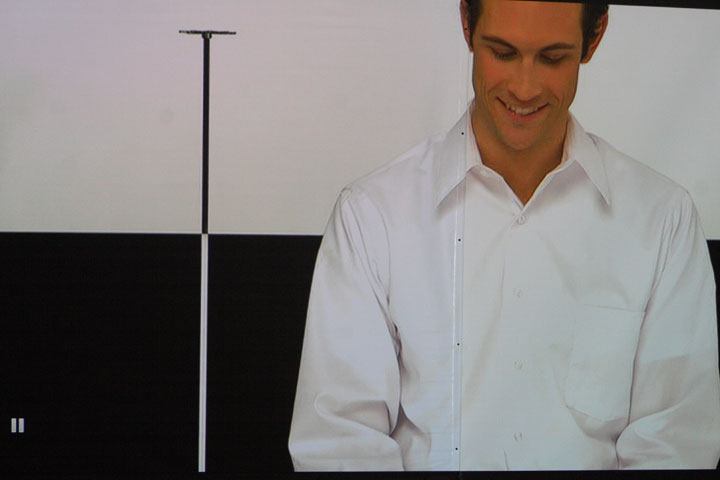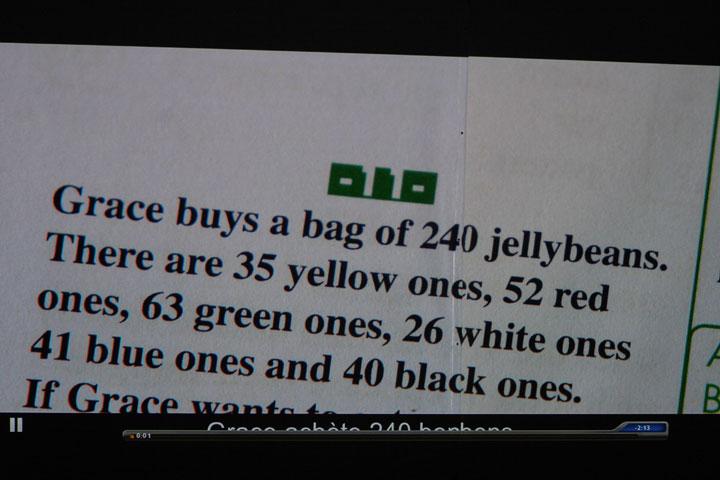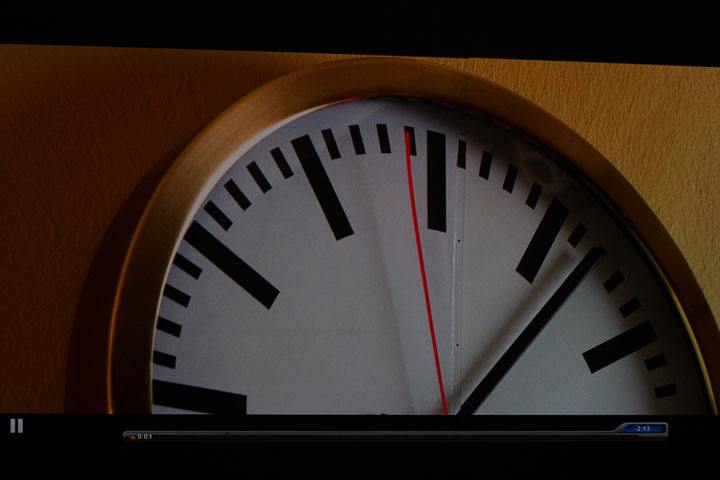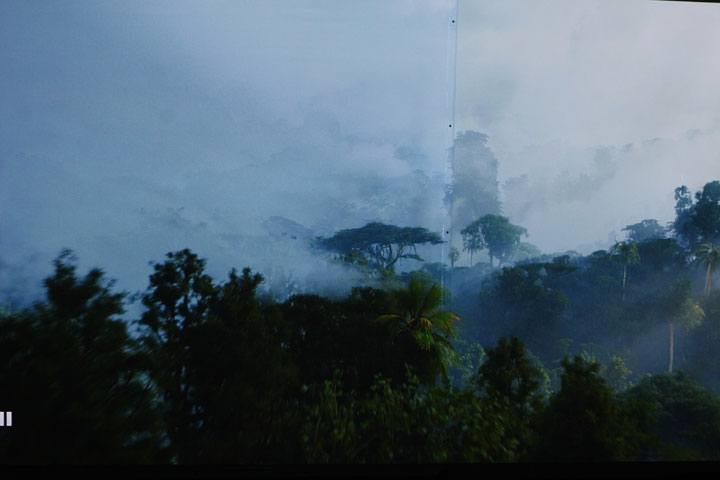 Our test screen (left) is a 100″ EluneVision fixed frame model with a 5-inch velour edge an a metal frame. US $999.00
Our reference screen (right) is a U.S.-made 110″ electric Draper Silhouette Signature Series E with a gain of 1.0. US $3,300.00
For side by side comparisons, I decided not to place the EluneVision screen in its velour frame (superb, by the way); I wanted to see it as close as possible to the Draper screen material on the right.
Results of the first comparison
There is indeed a difference and the projector would need to be calibrated before we went any further.
The above photos were meant to show, as if we still really needed to, that that all screens are not alike and that differences can also be found in color rendition.
These images show what the HD projector can do.
On the EluneVision it's clear that nothing is added or taken away in terms of colors – the whites are white without any correction on our part.
On the Draper screen, though, whites come out yellowish. But it's not only the whites that are affected; other colors are modified and shifted towards yellow on the color spectrum with Draper's screen, while the EluneVision was able to show with fidelity and near-perfect color accuracy.
We had in fact already noticed the yellow tinge to the image on the Draper screen, both with the Dreamvision Starlight 500 + scaler and with the Sanyo Z3000, but before doing this live comparison, we hadn't been able to see how much the Draper spoiled the color range.
The screen surface of the EluneVision Fixed Frame seemed light and texture-free, offering a clean finish.
System used was Claude's : http://www.magazine-audio.com/hi-fi-set-up/le-systeme-de-claude/
The two screens in this setup showed themselves able to deliver their respective advantages, noting that I didn't want to declare either one the winner, but bring up points of comparison instead.
I preferred the EluneVision in the setup, because the whites really were white, and the overall color rendition was a lot more natural.
On this occasion we projected the image with a Sanyo VPL-Z3000.
---
The electronics
NMT Popcorn Hour C200 player, LiteOn, DD 1 Tera Blu-ray player : $580
Stereolith model 232 "Audiophile" which replaces and improves on a center channel, the brilliant creation of Walter Schupbach : $1800
Receiver Yamaha RX-V 1065 : $780
Klipsch RS-W 10 subwoofer, upgraded with a 35 Kg steel plate on top and an inovaudio triple-point stainless steel cone and 3-material cup footer set : $1300
10-meter HDMI cable from the receiver to the projector and a Real Cable from the NMT player to the Yamaha receiver.
Furutech RTP-6 power bar,
Furutech GTX Rhodium AC socket: $220
AC cable for the source: Silver Triton by XSymphonie, Furutech Rhodium FI-25 connectors,
AC power for the RTP-6: Blueberry Hill Audio Figaro silver/rhodium (made in Canada), FI-28 Furutech Rhodium connectors,
Acoustic treatment: 2D mk II front diffuser, double vertical quadratics in back + 2 curved absorbers at the back of the right-hand wall, all by inovaudio (made in Canada) Total cost : $2600
inovaudio Art Metal tripod rack (made in Canada).
The multimedia room measures 3.5m wide / 5.3m long / 2.48m high
The projectors used in my living room
Sony VPL-BW7
Panasonic PT-AE4000
Here is the Reference Fixed Tab Tension during setup.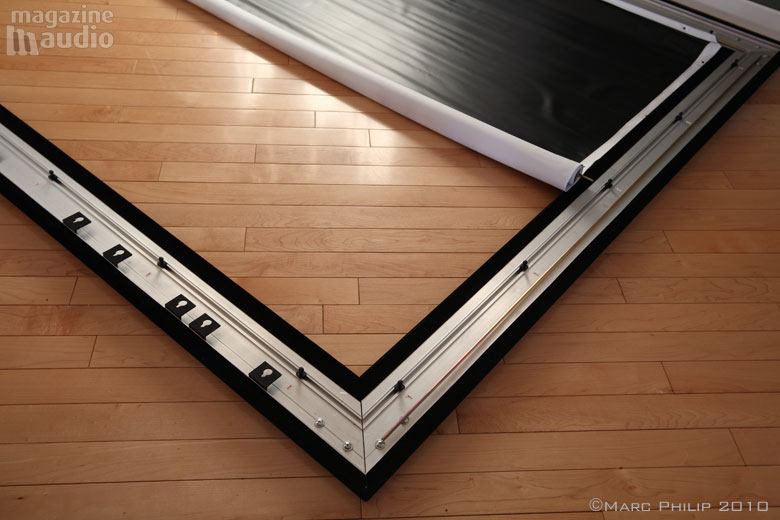 The velour and aluminum edges are very nicely made and assemble neatly.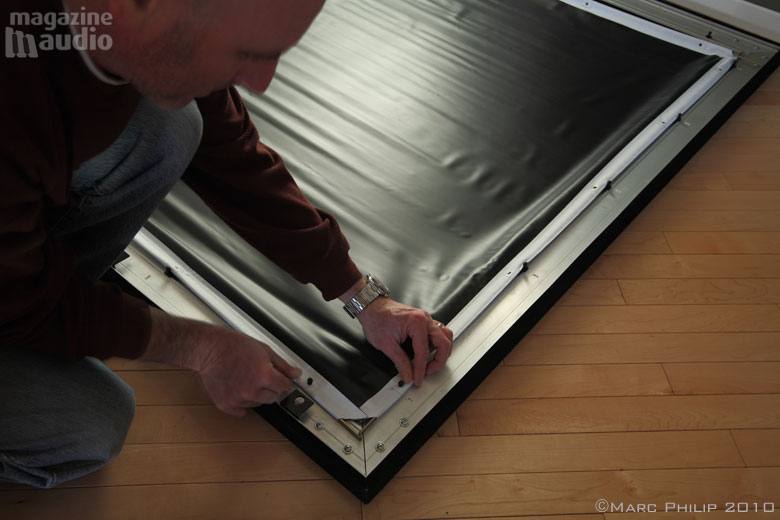 Some care is required to stretch the screen on its tabs, this took me longer than anything else.
The manufacturer recommends assembly by two people but I managed to do it alone without difficulty, which shows the relative ease of assembly, simple and very well explained even without looking at the diagram.
Setup is intuitive and within reach of just about anyone.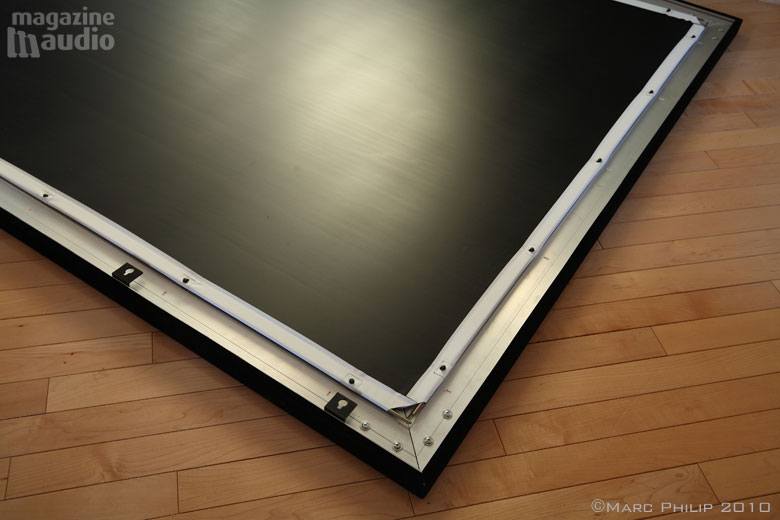 The final result is extremely attractive.
The material of the fixed screen is relatively elastic and quite flexible when set up, it's not the kind of thing you take down every day. You may say there's no reason to do that anyway, but I wanted to mention it since during the test we had to take it down several times.
I installed the Fixed-Frame under the chassis of the Acoustic Weave model I use every day, for demonstration purposes, but it would be better to fix it directly on the wall.
The mounting screws and wall plugs required are supplied by the manufacturer.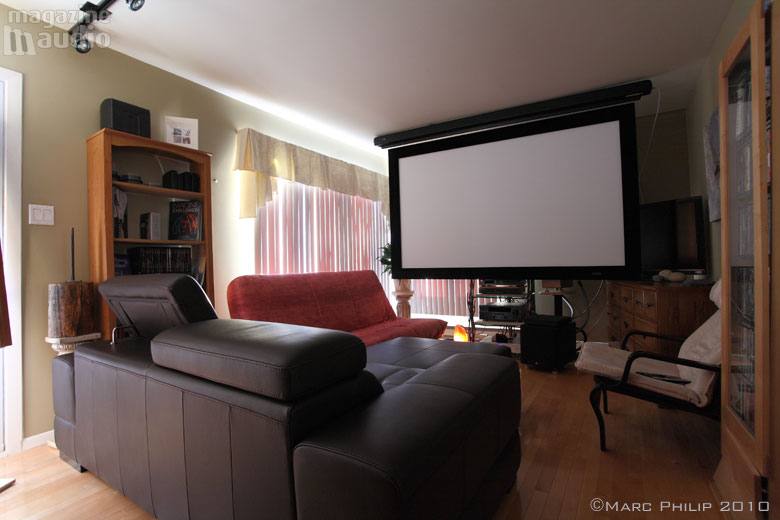 This screen, once installed looks absolutely fabulous, looks very high-class and paves the best way to get top-level performance, making a solid foundation for an authentic home theatre.
Results of our tests
---
 Strengths :
Impeccable finish, especially the fixed model with the velour border,
No loss of sound with the Acoustic Weave,
High end aluminum velvet-covered frame on the Reference Fixed Frame,
Remote control and laser pointer on the Acoustic Weave model,
Overall performance,
Unbeatable value.
 Weaknesses :
Nothing important enough to mention.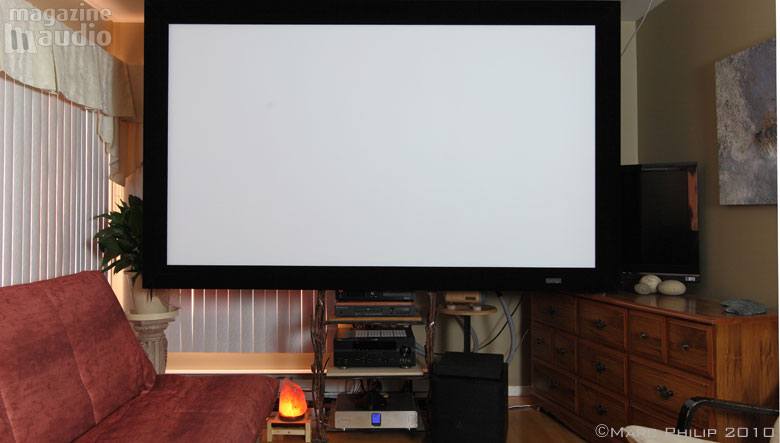 Just when we were struck dumb by what looked to us like cinematic Nirvana, a new form of it appears to muddle our findings up again: 3D is now a reality and we'll just have to cope with it 

Having said that, though, before you run down to your favourite dealer, you should know that 3D, no matter how exciting, is not without its limits nor its side effects, but that's another story.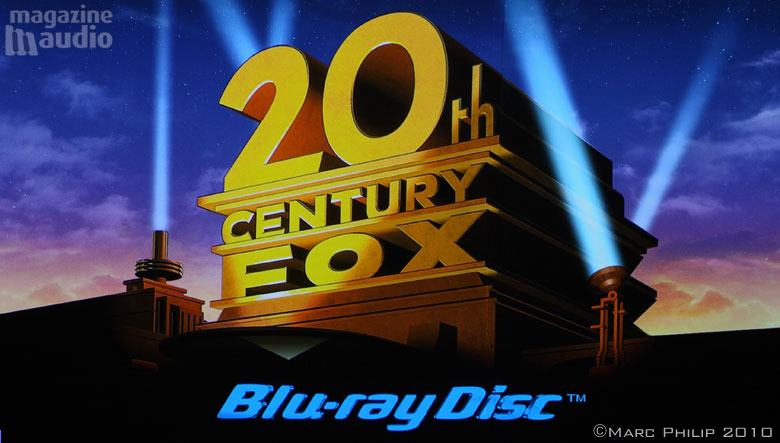 Movies used in our tests
The Bad Lieutenant, Blu-ray
Prince of Persia, Blu-ray
Into the Blue, DVD and HD .mkv
X-Men Origins: Wolverine, Blu-ray
Iron Man 2, Blu-ray
Batman Begins, Blu-ray
Batman, the Dark Knight, HD .mkv
Avatar, Blu-ray and DVD
Ratatouille, DVD
The Forbidden Kingdom, Blu-ray
Origin: Spirits of the Past, Blu-ray
Knight and Day, Blu-ray
Green Zone, DVD
The Da Vinci Code 2, DVD
Concerts and music shows
David Gilmour in concert (2002)
U2 360 at the Bowl
David Gilmour live at the Royal Albert Hall
Projecters used in our tests
Sony VPL-BW7
Panasonic PT-AE4000
Conclusion
EluneVision is a relatively new but game-changing player in the home theatre game, their products have to be considered for two important reasons:
1 : The line is ultra-complete
2 : EluneVision is the only company which offers products which are both among the best on the market and have a very reasonable price.
EluneVision's Reference-Line Competition
Da-Lite JPK
Stewart StudioTek 100 and 130
SMX
Nobody else is in the same ball game, much less at list prices which are actually 3 to 4 times lower than the competition's for similar or nearly similar units.
If you come from the opposite direction and look for manufacturers offering low-priced screens, there is an embarrassment of choice – as long as you're not too concerned about quality.
Manufacturer's Goal
Our objective is to exceed the expectations of our customers.
We work hard to push the limits of AV technology so we can offer our customers solutions with the best balance of performance, design and price.
The goal has been attained as far as we're concerned. EluneVision gets a "Best Buy" rating and an Editor's Choice Award tag for the remarkable improvements in its line since 2005 and for the performance of its screens, which can proudly wear the label Genuine Home Cinema Screen.
Calibration target and setup assistance
We used the HDTV Calibration Wizard Monster ISF Series to start with, and later the excellent ColorHCFR and the THX Optimizer.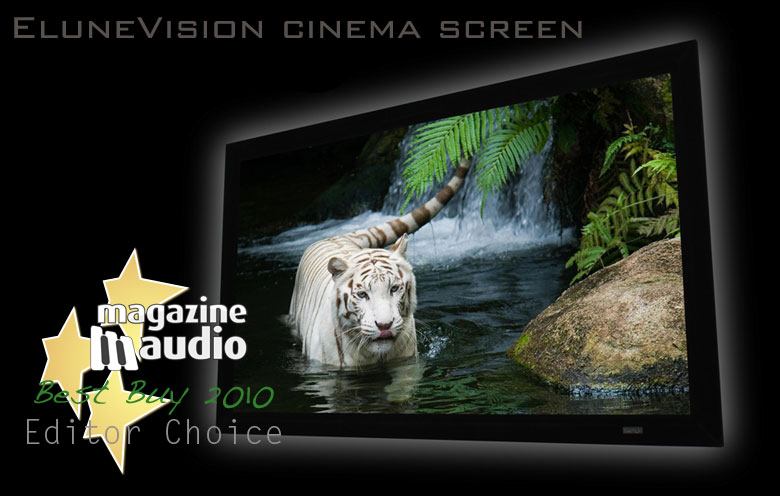 I hope to have informed you properly on a subject which doesn't excite crowds of people but still is of prime importance in setting up a home theatre worthy of the name.
The projection screen is really the cornerstone of a good system.