Product Description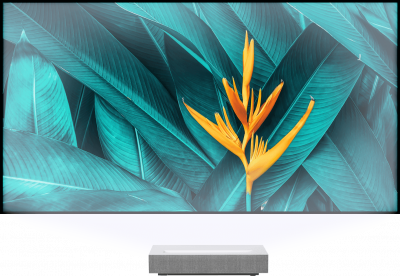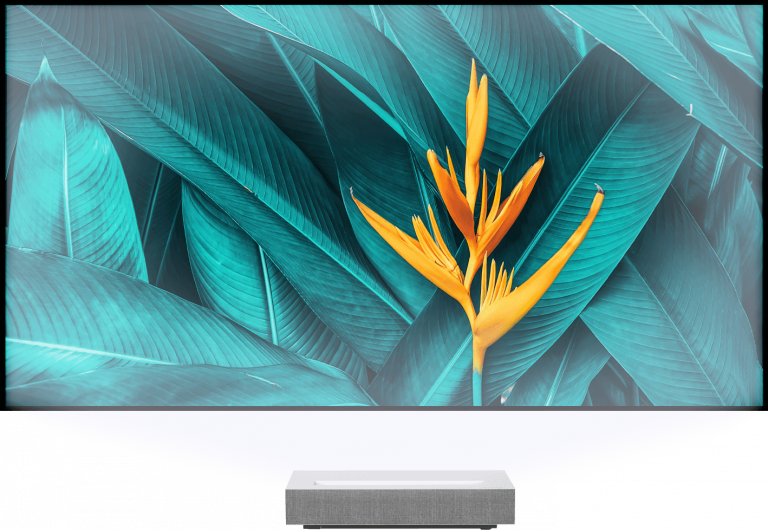 Our Reference 8K Ultra Short Throw Projection screen is designed to create a 120" viewing experience in your theater room or living room. Ever wanted a movie theater that is easy to access and takes no space?  Ultra Short Throw Projection is the solution. Combine the Reference 8K UST screen with a Ultra Short Throw projector will give you the most amazing movie experience ever in both moderate ambient light as well as a dark room.
Reference 8K gives you 500% more contrast than regular screens
If you have already spent thousands of dollars on a ultra short throw projector, then you need  the Reference 8K UST screen that gets the maximum performance from your projector. These screens are specially made for the ultra short throw projectors that will optimize the image from the projector to its best quality. Not only will this save up your room space, but also produces a higher contrast, better quality, TV-like image that bring your home theater to the next level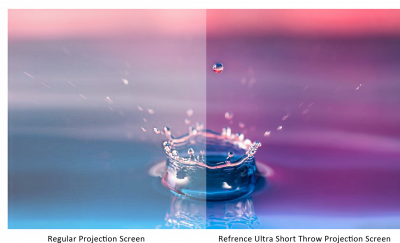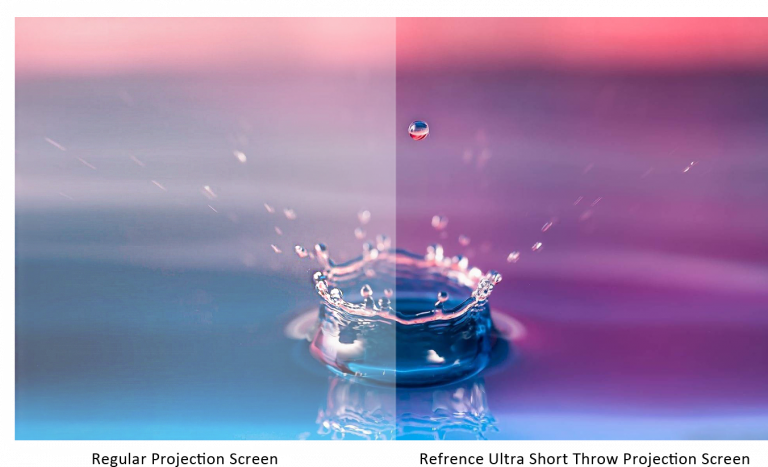 Immersive 3D, 8K AND HDR Experience
With the all new 8K and HDR support, our specially engineered ambient light rejection technology was developed to reject every bit of any source of light, making your content appear crisp and sharp, even in brightly lit rooms. Ensuring excess light does not disturb your viewing experience while still delivering the content with sharper colors and better contrast.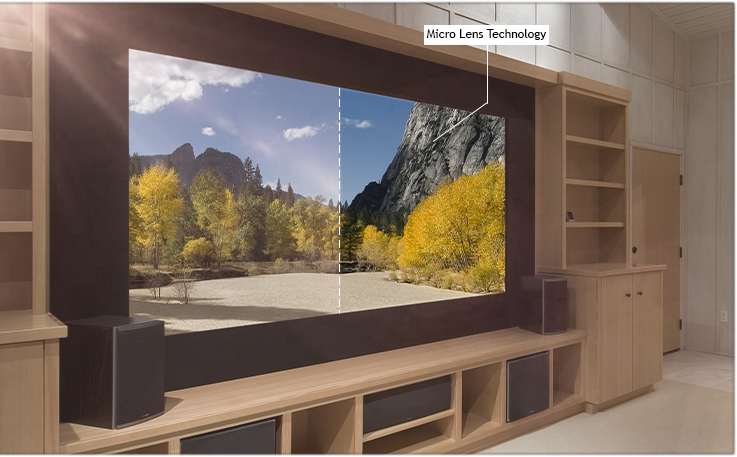 Revolutionary Reference 8K Micro Lens System
After years of research, we have developed the 8K Micro Lens System that reflects the light from an ultra short throw projector while absorbing ambient light from lighting and outside. This greatly enhances the contrast of the projector as well as performance under moderate ambient light. The screen material contains thousands of specially designed ridges that one side is to absorb ambient light while the other side is to reflect the projector's light. This will bring up the contrast by 500% to give you the most stunning image ever.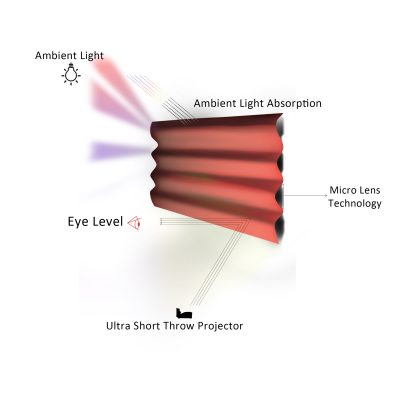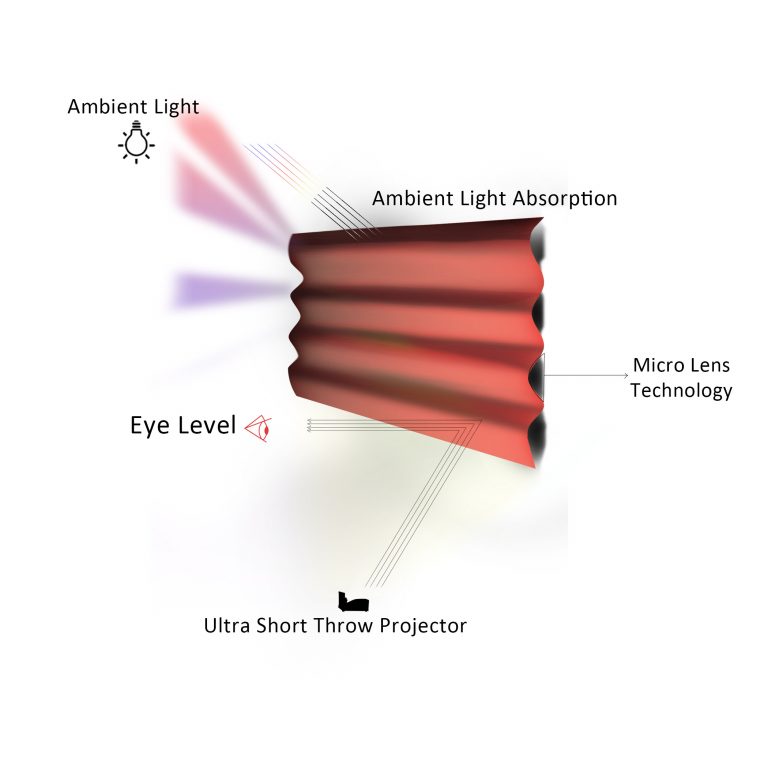 Integrated LED Back Lighting to Compliment Your Décor
Setting the mood has never been so easy. NanoEdge fixed frame screens feature integrated LED backlighting, making it easy to pair it with your décor and make your content stand out even more. The high-density LEDs allow for a larger, smoother light aura than most of our competitors, even at the corners! The soft lighting will increase your content's perceived contrast, making for a better viewing experience.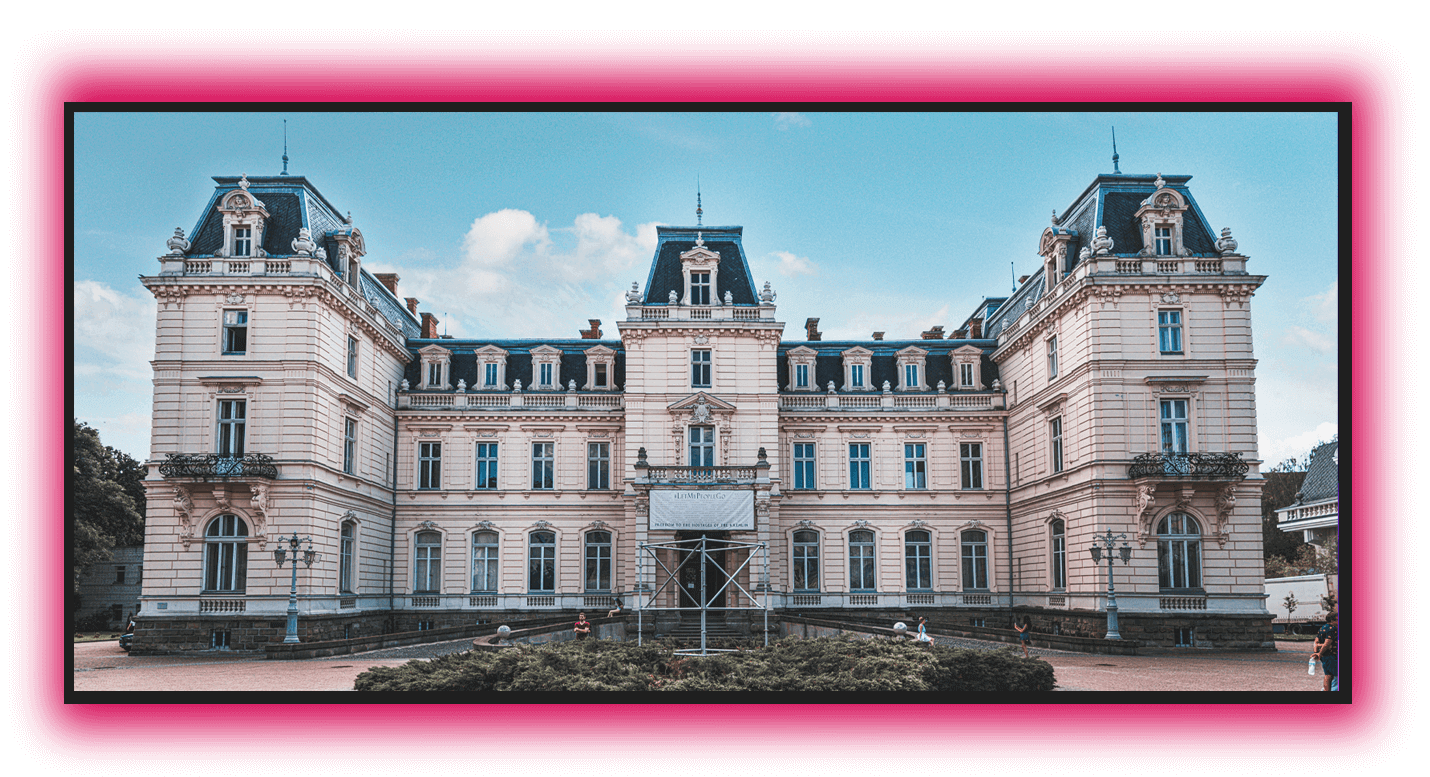 Dual Frame Structure – No Compromise on Form or Function
A great frame can take your content to the next level, so we've designed our frames as a key component of our top-notch screens. Our signature Dual Frame structure comprises two different frames: one frame holds the screen, applying even tension and guaranteeing a perfectly flat surface. The other one incorporates LED lighting and high-density black velour NanoEdge Bezel.

Adaptive Twin Tension System for a Perfectly Flat Screen
Picture Perfection can't be achieved if your screen is wrinkled or creased. We've developed a tensioning system that takes care of it and guarantees a perfectly flat surface. Our signature Adaptive Twin Tensioning System is multi-directional: a frame tensioning system that anchors the screen at multiple points to the frame, and equalization rods to evenly distribute tension.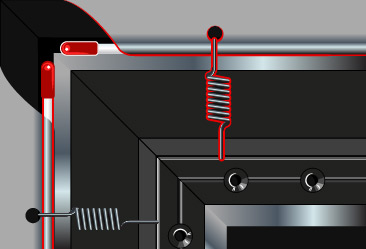 High Definition Format (16:9)