Product Description
EluneVision Aurora 4K HDR NanoEdge Fixed-Frame Screen
Ambient Light Performance Difference
Note: The performance difference in person is much higher, but it is difficult to demonstrate this in a video. Feel free to experience the difference in person in our Oakville demo-room.

Gallery (Click to Enlarge)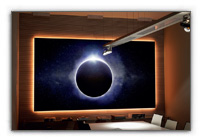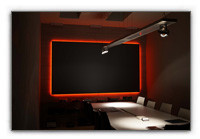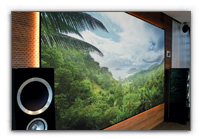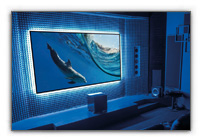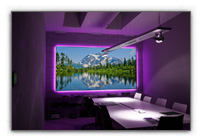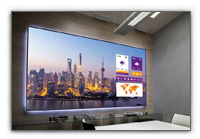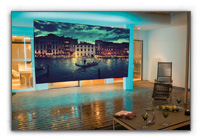 Full Feature Description:
Below is a short description of the features of the Aurora 4K HDR Fixed-Frame screen. To gain a full appreciation of the screen with a full/detailed description of the countless features of this screen, read the full feature description in the link above.
Guaranteed to be better than multiple times more expensive than SI Black Diamond Zero Edge 7 Series and other much more expensive high-end ALR screens, or return it for a full refund

superior enhancement of contrast and "image pop" by up to 950%

optically engineered ambient light rejectiong material means that you can use the screen in high ambient light situations as well as low ambient light situations

ultra-slim 0.4" velour-wrapped bezel gives the screen a stylish modern look

remote-controlled ambient LED surround lighting in many different colors

due to psycho-visual effects and way human vision works, when an image is surrounded with bright light in any colour, the perceived contrast of the image within increases significantly

lowest amount of crosstalk for active 3D Projectors due to perfect colour uniformity and detail clarity
perfectly smooth screen surface means that no integrity and resolution of 1080P and 4K 2D or 3D images is lost

whereas other screens have texturing and thus effectively down-convert your 1080P projector to a lower resolution, this screen not only maintains 1080P integrity, but is 4K ready, giving you the best performance, both today and tomorrow

helps to minimize viewer fatigue for active 3D projection due to the ability to minimize 3D crosstalk

the combination of maximum luxury, performance and price means this screen will be unrivaled by other fixed-frame screen manufacturers at even close to this price point

3 year warranty against all manufacturing defects

Performance Better than the Best
The performance of the Aurora 4K UHD NanoEdge screen is better than our competitors. The Aurora 4K UHD material better than competing ambient light-rejecting material in terms of contrast, sharpness, resolution, detail clarity, and rejection of ambient light. If you disagree, feel free to return our screen within 30 days – with no restocking fee and shipping costs paid by us.
Superior Value
The value of the Aurora 4K UHD series is far superior to that of competitors. We offer better video performance with much greater quality build for much lower cost than our competitors. In terms of value and performance, the Aurora 4K UHD line stands alone.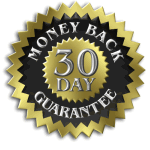 30 Day 100% Satisfaction Guarantee – We Even Pay For Return Shipping.