Product Description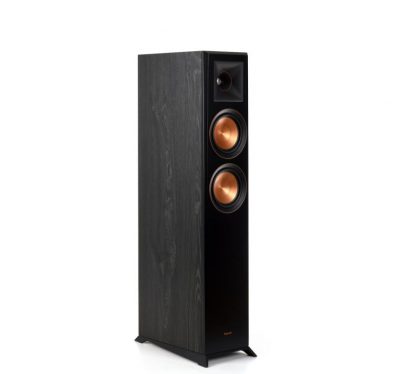 Klipsch RP5000FB II Reference Premier Dual 5.25″ Floorstander Black
High-performance sound from Klipsch
The Reference Premiere tower speakers from Klipsch are known for their dynamic, energetic sound. They're simply enjoyable to listen to, whether as part of a two-channel stereo system or a full-fledged home theatre setup. The new RP5000FB II is the Reference Premiere II line's smallest and most affordable tower. This new-generation tower speaker has two upgraded 5-1/4″ woofers for punchy bass and midrange, as well as a 1-inch horn-loaded tweeter for clear highs.
Upgraded tweeter and horn
The vented housing of the 1″ LTS (Linear Travel Suspension) tweeter helps to reduce standing waves, which can degrade sound quality. It's housed in a Tractrix® horn with a widened mouth for improved soundstaging and directivity. This means a larger overall "sweet spot" and better imaging within that sweet spot. To keep the highs smooth and non-fatiguing, the horn has a soft silicone face and a unique phase plug.
Under-the-hood driver upgrades
Metallic drivers aren't new to Klipsch speakers, but the company has improved the motor structures behind the cones significantly. Each woofer has a voice coil that is 70% larger for improved control, speed, and accuracy. The woofers also have new aluminium shorting rings, which help to reduce distortion and allow the drivers to handle more power.
A new cabinet for better sound
Klipsch also improved the cabinet on the RP5000FB II. This time, they added additional bracing throughout the cabinet and divided it into sections. This improves clarity by reducing sound-altering cabinet resonance and vibration.
Two rear-firing Tractrix ports in the cabinet help to deepen the speaker's bass response. Their distinctive horn shape encourages more efficient airflow into and out of the cabinet, reducing port noise and low-frequency distortion.
Because this speaker has a ported cabinet, it should not be placed against a wall.
Instead, I recommend giving the speaker some "breathing room" by pulling it slightly away from the wall. Its bass response will be grateful.
Bi-amp or bi-wire for even better sound
The RP5000FB II has two sets of binding posts on the back. These allow you to bi-amp or bi-wire your speaker to get the best sound possible.