Product Description
Experience the Tuscany model intensified. The Ultimate Luxury Edition is the supreme leader of home theater seating. Immerse yourself in luxury with Semi-Aniline Italian Nappa Leather 20000, a step above our premium top grain Nappa 11000 Leather. The smooth buttery matte finish is unwavering in its perfection and luxe appeal. Parallel to the rich aesthetic of a Bentley's interior, the perforated leather and French diamond stitching offers high breathability for optimal performance. Exceptionally crafted to enhance your home's luxury factor, the detailed design elevates the elegance of your home theater.
The Ultimate Luxury Edition's distinctive bold accents possess the allure and innovation of a high end luxury car. Indulge in perfection and experience what true Italian leather has to offer.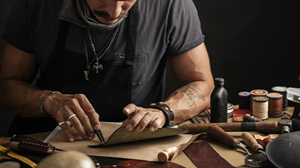 Semi-Aniline Italian Nappa Leather 20000
100% draped in Semi-Aniline Italian Nappa Leather 20000, the smooth buttery matte finish is unwavering in its perfection and luxe appeal. Originating from true authentic Italian leather tanning, Valencia's Semi-Aniline Nappa leather is handcrafted using century old practices.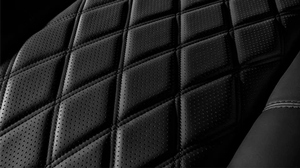 Perforated French Diamond Stitching
Exceptionally crafted to enhance your home's luxury factor, the Perforated French diamond stitching increase breathability and padding and takes comfort to a whole new level.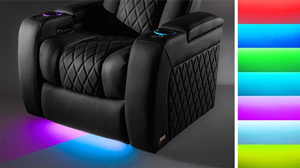 RGB Cup Holder & Base Lighting
Choose from 7 different color options to light up the Ultimate Luxury's base and sleek black chrome cup holders. Pick your favorite color and add a nice glow to the ambiance.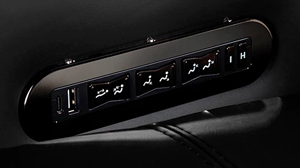 Black Chrome Memory Control Panel
Navigate your comfort using the mechanical controls on the inside of the armrest. The control has a USB-C and regular USB port so you can charge all your devices while enjoying the movie. It is equipped with memory function to conveniently save your personal position preference as well as home button.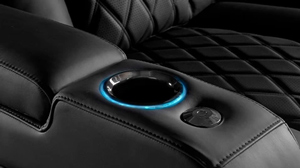 Black Chrome Cup Holders
Ergonomically sculpted with a power lumbar support that allow you to personalize your ideal firmness of the lumbar cushion to ergonomically and ideally support your back.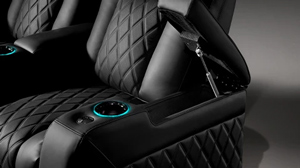 Parisian Velour Lined Armrest Storage
Lined with Parisian Velour, the concealed armrest storage presents you with a functional, yet elite design with a soft open detail. Conveniently store your gadgets by your side, without the clutter.
100% Leather Covered Back Finishing Plate
Accent that beautifully adds a finishing detail to the back of the chair. The Semi-Aniline leather wrapped plate is just the finishing touch needed for placing the chair in any space.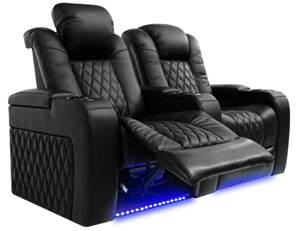 Adjustable Powered Recline Position
Quiet and smooth motor allows for silent reclining experience while allowing you to adjust the seat to your preferred recline angles.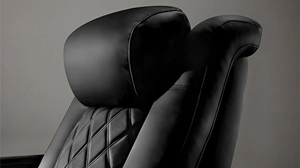 Power Headrest
The power headrest allows you to smoothly adjust your position to cater your personal preference. Customize your optimal angle and save to the chair's memory for future use.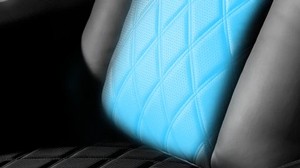 Perforated Lumbar Support
Ergonomically sculpted with power lumbar support and recline that allows you to control the firmness of the cushion to maximize back support.
Wall-Hugging Design
Never waste an inch of space! Engineered to make the most out of any space while providing an expansive feeling, even when fully reclined! Seats can be placed as close as five inches.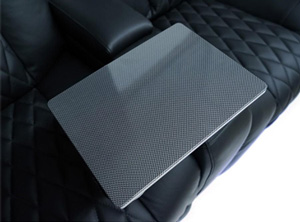 Tray Table Accessory
Whether it's chips and dip or a beef wellington, Valencia's tray tables allow you to hold all your necessities on a sturdy, even surface.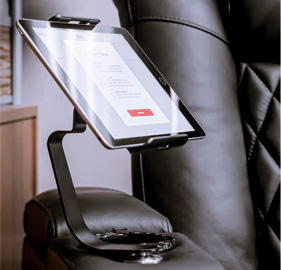 Tablet Holder Accessory
Always conveniently keep your tablet at your fingertips, securely and conveniently.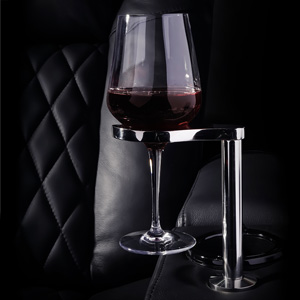 Tablet Wine Caddy Accessory
Conveniently hold your wine glass with this elegant stainless steel wine glass caddy. This very stable wine glass caddy will prvent your wine from spilling and hold wine glass of practicaly any size.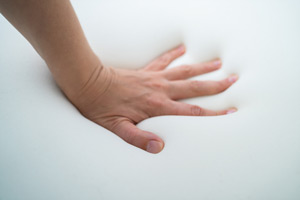 High Resilliency Seating Foam
High quality, high resiliency foam in the seat cushion is designed to be comfortable yet ergonomic, maximizing the enjoyment of your theater while minimizing fatigue.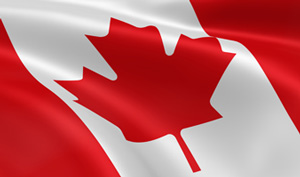 3 Year Pro-Rated Canadian Warranty
Having a Canadian warranty means no suprises in having to potentially spend thousands of dollars to ship your product to the USA for warranty purposes.