EluneVision Reference 4K Screen Reviews
Professional Reviews
After the Reference Studio 4K screens were launched in late 2010, they have gathered nothing but positive reviews, from both professionals and home theater enthusiasts.  We have posted some reviews, including detailed home theater enthusiast user reviews, for an unbiased look at what people think of our screens. We will be adding to this sections as more reviews come in.
User Review #1 – Review Source: AV Science Forum – user "rsegato": Link
-review full of detailed installation process, photos of the Reference Studio 4K Fixed-Frame screen in action
–Excerpts: "Detail wise, this screen is advertised as having a better surface for 1080P (smaller) pixels. I found this to be true and have attached some images to try and show this…Blue-ray detail look incredible let alone HDTV…this was a perfect addition to my home theatre…I know you won't be disappointed."
User Review #2 – Review Source: AV Science Forum – user "darealgerk": Link
-direct to the point review outlining the user's impressions after using it long enough to do a review on it
–Excerpts: "The resolution of this screen is awesome… I have seen some of the "better" DaLite screens in a similar price range and this screen blows them away. Zero hot-spotting with my setup, no sparklies, nothing to distract you from the video at all…At full 1080p you see things very crisply right down to the pixel…I like to think I have a fairly discerning eye when it comes to things like clarity and color (people do pay me to do post processing and color correction on video) and it lived up to my expectations…this screen will hold up long enough and be able to pull off the resolution for when we progress beyond 1080p and into the realm of 4k and above.
Professional Review – Review Source: Magazine-Audio: Link
-a review of the EluneVision Reference Studio 4K screen from the eyes of an AV Professional, filled with photos, impressions
-directly Compares EluneVision Reference Studio 4K screen ($999.99) image quality vs the Draper Silhouette Signature Series E ($3300)
-even though it is 3.3x less expensive, the EluneVision Reference Studio 4K wins the comparison, with the Draper screen struggling to stay close when it comes to color accuracy
-Excerpts: "On the EluneVision it's clear that nothing is added or taken away in terms of colors – the whites are white without any correction on our part. On the Draper screen, though, whites come out yellowish. But it's not only the whites that are affected; other colors are modified and shifted towards yellow on the color spectrum with Draper's screen, while the EluneVision was able to show with fidelity and near-perfect color accuracy…I preferred the EluneVision in the setup, because the whites really were white, and the overall color rendition was a lot more natural.
Ultra High Performance/Longevity
As close to a perfect screen material as possible in terms of the most important screen performance metrics (texturing, hot-spotting, color accuracy, etc)

ill maximize the performance of your projector 1080p projector today, whereas typically screens effectively lower your projector's resolution due to texturing on the materialy

virtually no texturing means it will maximize performance on any future projector upgrades (4000×2000 pixel resolution and higher) in the next 10-15 years, making it the best "bang for the buck"

high feature set (i.e. thicker 5″ frames, wireless trigger) for a more luxurious home theater setup

guaranteed better price/performance screen in its price range or your money back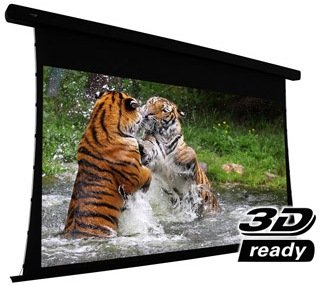 Reference Studio 4K
Ultra High Performance & Longevity
Tab-Tensioned Motorized Screen
1.0 Gain White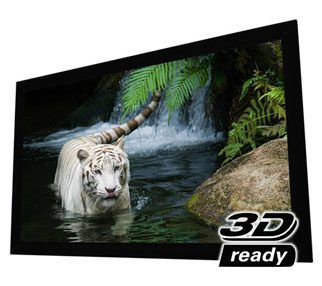 Reference Studio 4K
Ultra High Performance & Longevity
Fixed-Frame Screen
1.0 Gain White and 0.8 Gain Gray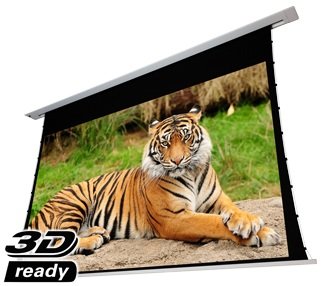 Reference Studio 4K
Ultra High Performance & Longevity
Tab-Tensioned Motorized In-Ceiling Screen
1.0 Gain White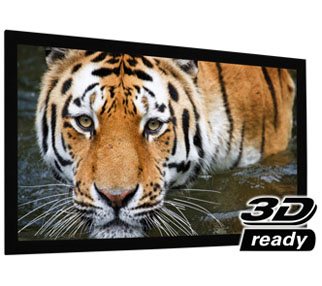 Reference PureBright 4K
Ultra High Performance & Longevity
Fixed-Frame Screen
2.4 Gain – Ambient Light-Rejecting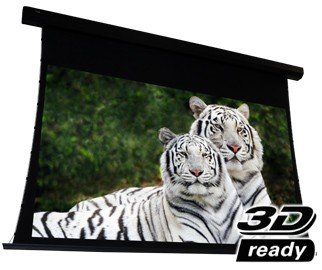 Reference Studio AudioWeave 4K
AUDIO TRANSPARENT
Ultra High Performance & Longevity
Tab-Tensioned Motorized In-Ceiling Screen
1.15 Gain White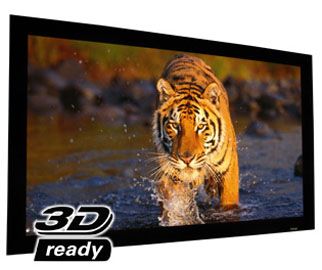 Reference Studio AudioWeave 4K
AUDIO TRANSPARENT
Ultra High Performance & Longevity
Fixed-Frame Screen - Ultra High Performance & Longevity
1.15 Gain White