Product Description
 Sony VPL- VW5000ES 4K SXRD Home Cinema Projector :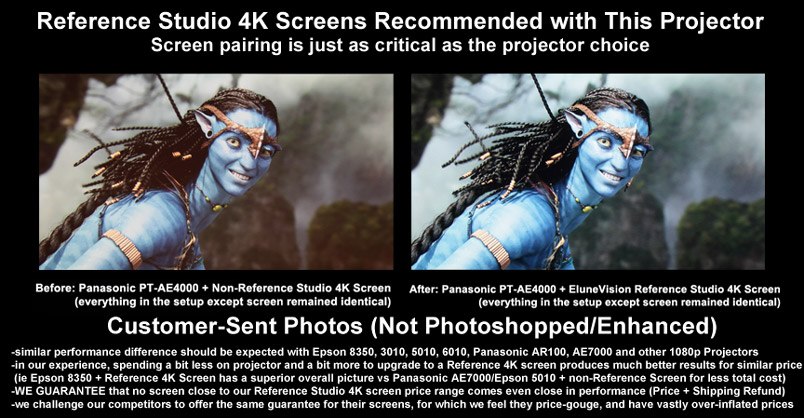 Native 4K resolution for lifelike pictures
With more than four times the resolution of Full HD, native 4K offers 8.8 million pixels (4096 x 2160) for a picture that's so incredibly lifelike, it's like looking at the real thing. This is the same resolution defined by Digital Cinema Initiatives for cinema distribution, with pixels one quarter the size of those used by traditional Full HD 1080p projectors. See corner-to-corner clarity and watch movies from much closer than you would in Full HD.
5000 lumens for spectacular brightness
Savor the action with an incredible 5000 lumens brightness, for high contrast across the screen. A highly efficient Z-Phosphor laser light generates the brightness required for vibrant images across the whole screen.
High dynamic contrast for stunning realism
The VPL-VW5000ES's SXRD™ panels and laser light source help the projector achieve a high dynamic contrast. This means that the full color spectrum—from deep, inky blacks through to vibrant reds, blues and greens—is replicated with fine detail and realism, making every scene spring to life for a truly immersive experience.
Watch for longer with a Z-Phosphor laser light
Inside the VPL-VW5000ES is an ultra-pure, reliable Z-Phosphor laser light source. You'll enjoy perfectly clear 4K pictures plus up to 20,000 hours2 of uninterrupted operation, with no lamp replacement or maintenance.
4K SXRD™: Our most advanced projection technology
Our advanced SXRD™ (Silicon X-tal Reflective Display) system features an ultra-fast response rate of 2.5 milliseconds for clear, blur-free images. The panels also minimize the space between the pixels—a feat not achieved by comparable projection technologies—allowing our projectors to deliver smoother images. Additionally, the decision to include three SXRD™ panels means this projector can display each primary color simultaneously, and with light passing through each panel twice, this allows exceptionally deep blacks to be reproduced for a more powerful viewing experience.
Reality Creation upscales your favorites
Upscale your existing Blu-ray Disc™ and DVD movies to near 4K quality. The super-resolution Reality Creation 4K upscaler analyzes every pixel in any direction, then employs a digital signal processing algorithm to map pixels against an ever-evolving picture patterning database, compiled from over 10 years of expertise, to enhance colors, contrast, and textures.
HDR compatibility: every image comes to life
Combined with 4K native resolution and a wider color gamut, HDR video content delivers unprecedented detail, color and contrast, with a far wider range of brightness than other video formats. The result is a picture with lifelike realism, brilliant highlights, and fine detail. HDR content is available from selected streaming services and the upcoming 4K Ultra-HD Blu-ray format.
Plays your "Mastered in 4K" discs
The "Mastered in 4K" collection includes classic films, remastered with enhanced color and detail for Blu-ray Disc™. Play these discs with a pixel resolution and color range that's almost identical to the 4K original. The movie is down-sampled from the original 4K source at a high bitrate to Full HD, then upscaled using the same algorithm to 4K.
Action stays smooth with Motionflow™
Whatever you're watching, you'll enjoy a silk-smooth on screen look in fast-moving action sequences with Motionflow. This innovative technology creates and inserts extra frames between the original frames by first comparing key visual factors on successive frames then calculating the split second of missing action in the sequences. True Theater 24p mode mimics true movie projection for theater purists.
Built-in 3D transmitter synchronizes entertainment
Start watching 3D movies quicker. An industry-standard RF 3D transmitter synchronizes the supplied glasses with your projector for a quick, easy set-up. Upscale 2D films to 3D and enjoy classic movies in a whole new dimension.
Picture Position Memory stores your settings
Store lens, zoom, and shift settings for up to five screen formats for easy recall. Picture Position Memory remembers key settings so you can quickly watch movies in the ideal format. Match aspect ratios, including 16:9 and Cinemascope, and store these settings in the projector.
Future-proofed support for the latest HDMI standards
The VPL-VW5000ES can project native 4K content at up to 60 frames per second, for even smoother images with superior color and realism. Support for HDCP 2.2 lets you enjoy the latest 4K movies and TV shows.
Select from nine picture calibration modes
Quickly calibrate the picture to what you're watching or playing. Select from nine picture calibration modes, including two theater film modes, cinema digital, reference, TV, photo, game, bright cinema, and bright TV. An advanced HSV manual color tuning tool gives you even more control.
Flexible home installation
A +30° tilt capability gives you the flexibility to install your projector in a number of different rooms throughout the house.
Whether you're looking to purchase this or any other projector, shop for a projector screen (or a combination in a projector package), Eastporters has everything you need at the best prices. Additionally, we carry a wide range of home theater seating to perfectly complement your home theater setup. Also, you can learn more about our EluneVision Projection Screens.