Product Description
Valencia Syracuse chairs are designed by the best Italian furniture craftsman to create a chair that is both luxurious and comfortable. The chairs are ergonomically designed, taking into account that natural posture of the human back. This means that the chairs are extremely comfortable for hours of relaxation, while watching your favorite movies or playing your favorite games. The chairs use a manual reclined mechanism rated for over 30,000 recline cycles. The chairs use a natural wood and metal construction that is extremely sturdy and will keep its shape for years to come.
The foam padding is designed specially to tailor to the contours of your body while maintaining its shape. All of Valencia's chairs are designed with your back in mind so that extra padding is included in the lumbar regions to provide lumbar support.
Whether you're looking to put these seats in your living room or use as home theater seating with your projector, Valencia offers you to bask in the luxury and comfort for years to come.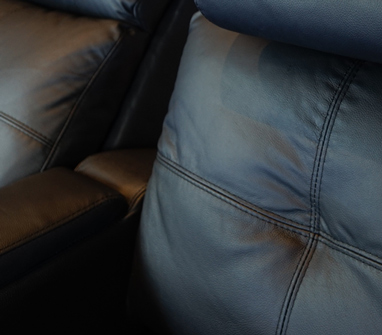 Top Grain Leather 9000
All our theater chairs that are specified to have leather feature Top Grain Grade 9000 leather. This means that only top grain leather is used for seating surface, armrest, and neck pillows. The leather is chosen from the top 20% of raw cow hide, as only a small portion can be used and classify as Grade 9000 leather. The end product is a leather that is luxurious, supple and yet incredibility durable and easy to maintain. Only Grade 9000 genuine top grain leather will deliver the performance, comfort and luxury for years to come.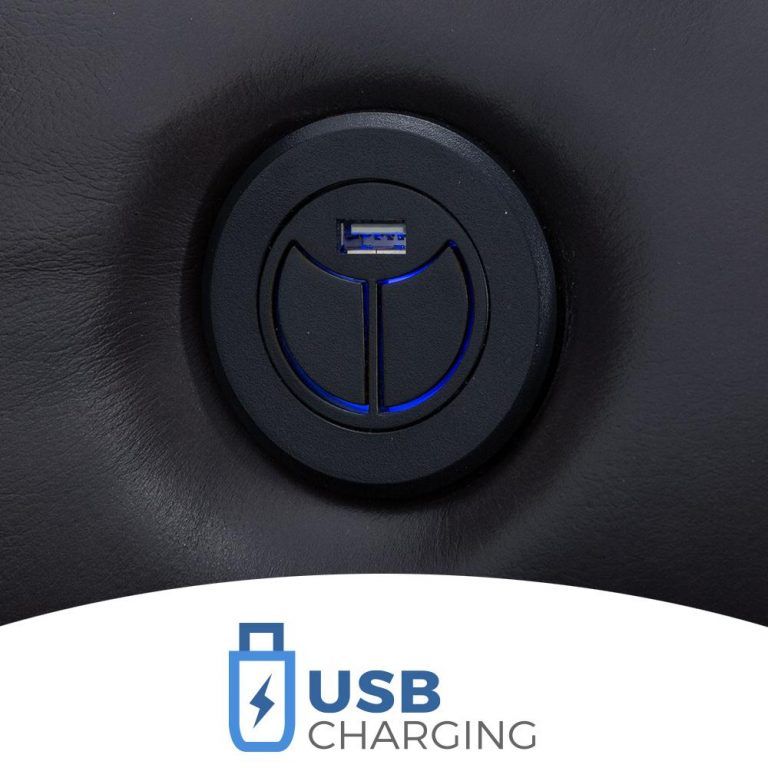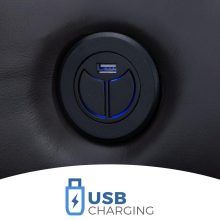 USB Charging
This chair includes a USB Port for charging your electronics, giving you the ultimate convenience in your home theater experience.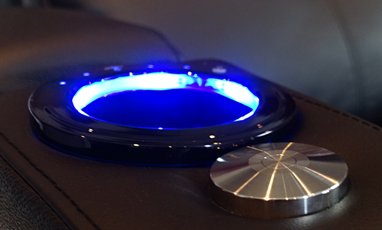 Sleek LED Cup Holder
The cup holders features sleek and discrete LEDs, which allow the user to see their drinks in the dark without affecting the theater viewing experience. The LED cup holder features touch sensitive control, as well as the ability to lock the control to prevent inadvertent activation.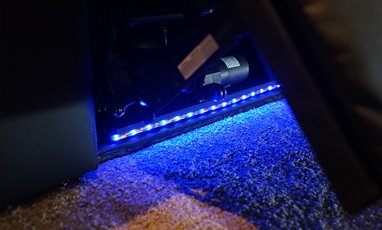 Ambient Base Lighting
LED ambient base lighting adds a nice touch to any theater by giving guiding movies enthusiasts in and out of the theater. The lights can be turned on and off quickly and easily via controls on the cup holder.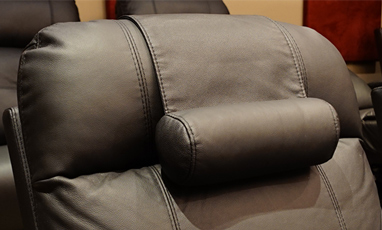 Neck Pillow (Optional Add-On)
This universal neck pillow is compatible with all home theater seats, and has a fully adjustable height. Using Top Grain Leather 9000, it is a beautiful and luxurious way to give your neck the support it needs in order to enjoy your home theater entertainment for long hours without fatigue. It is an excellent addition to any home theater seat.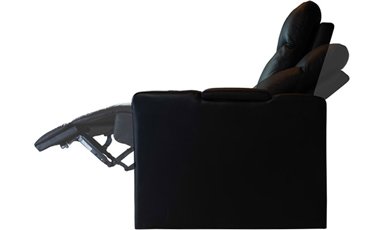 Wall-Hugging Design
The wall-hugging design of all our seats ensures that the seats can be placed very close to your wall, virtually eliminating the wasting of space in your room.
Ergonomically Designed with Proper Support
Valencia Theater Seating is designed with high quality, high resiliency foam materials, which means that the chairs hold their shape, year after year. Furthermore, the foam in the seat back cushion is chosen to be comfortable yet ergonomic, maximizing the enjoyment of your theater while minimizing fatigue. The seat rest is designed with special, high density foam that will be supportive yet remain in great shape throughout the lifetime of the seating.