EluneVision Projection Screens – EluneVision EVO 8K Screens
Maximize the Performance of your 4K Projectors and Keep Your Screen for the 8K Future
EluneVision Projection Screens – EluneVision Reference Studio 4K Screens
Independent Reference Studio 4K Screen Reviews:

                                                                                          Ultra High Performance/Longevity
As close to a perfect screen material as possible in terms of the most important screen performance metrics (texturing, hot-spotting, color accuracy, etc).
will maximize the performance of your projector 1080p projector today, whereas typically screens effectively lower your projector's resolution due to texturing on the material.
virtually no texturing means it will maximize performance on any future projector upgrades (4000×2000 pixel resolution and higher) in the next 10-15 years, making it the best "bang for the buck".
high feature set (i.e. thicker 5″ frames, wireless trigger) for a more luxurious home theater setup.
guaranteed better price/performance screen in its price range or your full money back.
Other Home Theater Screens
Multimedia/Presentation Screens – 4:3 and 1:1 Aspect Ratio
EluneVision Projection Screens is a Canadian owned and operated company, specializing in projection screens. With a heavy focus on research and development, EluneVision has managed to stay ahead of the curb, offering performance equal or greater than the most expensive screen manufacturers at an unbeatable price point. EluneVision Projection Screens takes pride the performance and workmanship in their screens that they are one of the only manufacturers which guarantee your satisfaction or your money back. If you do not like your screen, return it within 30 days, no questions asked. Furthermore, EluneVision has some of the longest warranty periods in the industry, with 3-5 year warranties coming standard across the whole EluneVision Reference 4K line.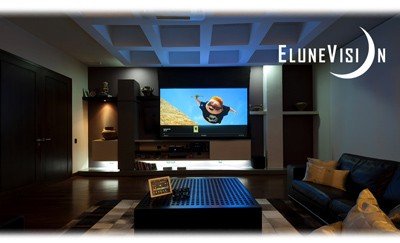 If you are shopping for a projector screen or portable projector screen anywhere in Canada, our employees at Eastporters want to make your buying experience an enjoyable one. When it comes to the best home theater projector screens or portable projector screen shops in Canada, we make every effort to stand out as the number one choice for customers. From home theater projector screens, to commercial screens, to portable screens and more – we cover it all at Eastporters. If there is a particular projector screen or portable projector screen you are looking for in Canada, our inventory covers all the categories. Always offering high quality, elite performing and durable home theater screens, multimedia presentation screens and projector screens, we at Eastporters always want to leave every client one hundred percent satisfied. If you are in need of a projection screen, a portable projector screen, a custom screen, a fixed-frame screen, motorized screens, an ultra-short throw screen, or a manual pull-down screen we want to be your go-to source for all your home theater, office, media, presentation products and services in Oakville, Ontario, Canada, serving the Greater Toronto area as well as shipping to the rest of Canada.